Three Ways to Sell a Handicap Van in a Confusing Market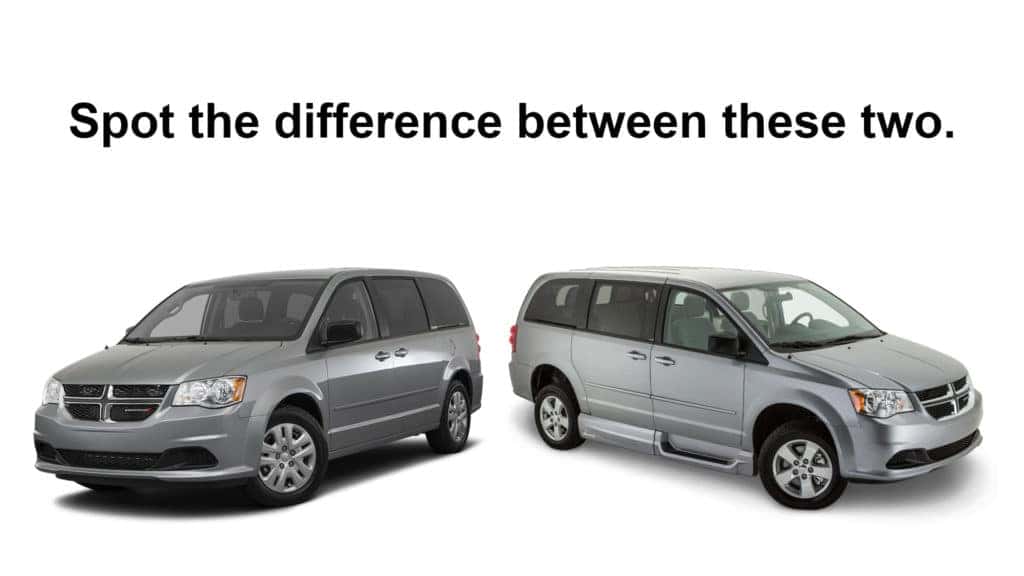 First a little Introduction
A mobility van is really two things, a chassis that a large manufacturer produces like a Toyota Sienna, Dodge Grand Caravan, Chrysler Pacifica or Honda Odyssey. The second thing is the handicap accessible equipment that is added by a conversion company such as VMI, Braun or Freedom Motors. Both are expensive new, however they depreciate differently. It takes a user or a knowledge expert to understand the true value of both.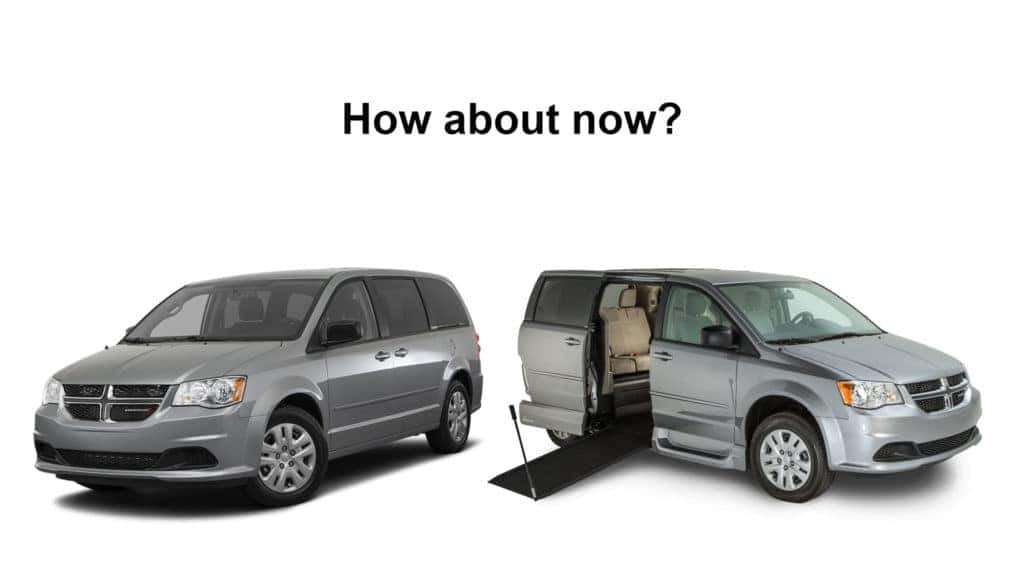 How We Got Here
As an acquisitions specialist for one of the largest Mobility dealerships on the west coast, I often get emails or questions asking me what to do with an asset that they came upon ownership of typically from an estate of a relative.
Here is an example of an email I get on a weekly basis:
Leo,
My name is María, I hope this email does not catch you off guard or intrude on your business day.
Basically I have some questions about wheelchair vans, I found your website, and noticed you were listed as the acquisitions specialist???
Maybe you could take a few minutes to help me out?
My father recently passed away this year, he was a navy veteran and he loved this country very much. He lost the use of both his legs a while ago, and it was obviously difficult for him to do normal things, but he tried his best to take care of himself and my mom and me and my 2 other adult sisters. Our family has been getting things in order since February after he died, and are coming down to the last few items that my mother, Yesenia, has been putting off dealing with until this month.
My dad had a very cool silver van that he could drive around in all by himself. This van has some special devices in it to control the car with just his hands while he would drive. It also has a special ramp attached to it so he could drive his wheelchair up and down on it. I'm not exactly sure where he got it from, i think through the VA Hospital out here? but it is very unique and he had it for about 6 years, but only used it sometimes. My mother doesn't really know how much it is worth, if the ramp and stuff make it worth more?? My Sisters were talking to my mom about giving it to some friends in her neighborhood, or selling it on craigslist, or taking it to a Toyota Dealership, cause it is paid off, and she doesn't need it now.
I have been looking at your website and I see you sell these types of handicap vans, So I am wondering if you might have some good advice on how to sell it. Also would you be interested in buying it from my mom? I'm just trying to help her out, and cause we don't need it anymore.
I can give you my mothers' cell, or mine, or you can tell me what is best.
Thanks so much Mr. Leo
And God Bless your Family!
María
I tend to respond with a request for basic information to understand what the chassis is worth in the current market as that is a large portion of the overall cost. The VIN or vehicle identification number is needed for that. It's a long 17 digit number located under the windshield on the Driver's side, and on a sticker on the Driver's side door.
Sometimes people are hesitant to give out that information because they think of it as a Social Security number. They really shouldn't be as it isn't private and more like a license plate.
In Maria's case she was able to send me some pictures and I determined she had a Toyota Sienna that is pretty unique, not just for a used Sienna, but even for mobility vans. It is what we call an "in floor side entry", this type of conversion is pretty complicated and expensive. Also, the interior looks amazingly clean just as your mother described, and the miles are reasonably low for being 7 years old. There are some scratches on and around the ramp and the driver's area, but that is normal, especially because your father loaded himself up. The EZ-Lock System is great to have in the driver's seat area for any future mobility drivers. The hand controls are fairly specific to your father's needs and may not be quite right for some buyers, but you should definitely leave them in for now.
Here is my advice on selling this van:
I feel like a long time member of the bad analogy club, but sometimes for unique items I feel they go a long way. There is a fun story floating around the internet and social media right now. Most versions go something like this:
"Before he died, a father said to his son; "Here is a watch that your grandfather gave me. It is almost 200 years old. Before I give it to you, go to the jewelry store downtown. Tell them that I want to sell it, and see how much they offer you."
The son went to the jewelry story, came back to his father, and said; "They offered $150.00 because it's so old."
The father said; "Go to the pawn shop."
The son went to the pawn shop, came back to his father, and said; "The pawn shop offered $10.00 because it looks so worn."
The father asked his son to go to the museum and show them the watch.
He went to the museum, came back, and said to his father; "The curator offered $500,000.00 for this very rare piece to be included in their precious antique collections."
The father said; "I wanted to let you know that the right place values you in the right way. Don't find yourself in the wrong place and get angry if you are not valued. Those that know your value are those who appreciate you, don't stay in a place where nobody sees your value."
Here is how this totally off topic story relates to selling Maria's father's handicap van and exactly what I responded with:
You really have three basic options when it comes to selling highly unique and specialized vehicles like this Sienna.
Option One, the "Museum"
The very best way to sell a mobility van (handicap accessible van), if you are looking to make the top dollar, is to find the specific buyer who truly needs and wants all the features the van has to offer them. Mobility vans are custom built vehicles, designed with specific uses in mind. Your father's van has some amazing tailored features, if you can just locate the specific person who needs those features, you can ask for a really great price.
You can sell it on craigslist like your sister suggested, just make sure you have loads of great pictures, make sure it is thoroughly detailed, make sure you have had a full inspection done, and you post it with some really great descriptions. Your likelihood of getting close to it's true value is going to be highest if you take this route. Once the ideal buyer finally finds your ad, they will be willing to pay pretty close to what they would be willing to pay if they bought it from a dealership, if the van really matches their specific needs.
If you go this route, you must be very patient to be successful. Remember, a dealership like ours is willing to sit on inventory for 6, or even 12 months until the ideal buyer comes along. If you want to beat all the dealers, you will have to present your vehicle in it's best light, and be willing to wait several months for the deal to come your way. And you shouldn't just idly wait for it to happen either, you should actively seek out the best buyers.
You might also consider listing the van in multiple locations, and on several ad platforms. It probably sounds like a lot of work, but you could certainly pull it off, as you are a thoughtful and well spoken person who takes amazingly good photos!
Option Two, the "Jeweler"
The next best way could be much faster, but you will not make the top dollar in the sale. You would need to locate a quality dealer who specializes in mobility vans, who will see the true value of the van for their own customers. A knowledgeable honest dealer will give you a fair deal, as long as you see that they are the ones taking the risk on timing. If you need to sell the van quickly, the dealer will then need to do all the advertisement and be willing to sit-on and maintain the vehicle after they purchase it from you until their own end buyer finally comes along.
You will get a fair market wholesale value, if you find a good dealer, which can be very hard to do, but certainly not impossible. I know that you are not here in Colorado, but you could probably find someone who would make you a reasonable offer out where you all live.
We are certainly not your ideal "Collector", but we do see ourselves as the "Jeweler" in the story. We are the reliable go-between, we are always willing to make an offer. We also do ship nationwide, so being as far away as you are would not scare us off from helping you all out.
Option Three, the "The Pawn Shop"
Your third option, if you decide not to simply give the van to your mother's neighbors, is to take it to a standard used dealership. In the story about the fine watch, the father talked about the "pawn shop", this is a place that would not see the watch as a rare timepiece, but as just an ordinary everyday watch. To them the watch is just a commodity. But, they certainly still see some value in it, and are willing to make an offer for it's base commodity price. Don't worry, I'm not saying you should sell your mother's van for it's scrap value!
I'm saying your father's used Sienna itself has a base market price aside from all of the specialized handicap equipment and the conversion value. A common dealership would probably not appreciate the value of those other things, they would not see it as the ideal handicap accessible van for some future customer, but when they see the van, they will at least see a minivan which they could sell to somebody who needs transportation.
I'm sure in your area, you have some used car dealers who could make an offer based on the value of the Toyota Sienna itself. Maybe the Toyota dealership your other sister mentioned could make an offer you might be able to accept.
At the end of the day, you really just have to decide what your end goal is, and what you are willing to do to accomplish it.
I sure hope this story and info is useful to you. Like I said, we are not the "Collector" in the story, but we could probably offer more than a local dealership would be willing to offer you, because we do specialize in handicap accessible vans like this particular one. Our goal is to get our own customers set up with the specialized vehicles that will serve their needs exceptionally well. We are willing to buy good vehicles that meet our customers' particular criteria from anywhere that we can ship them from.
If I were you, I would take some time to talk it over with you mother and sisters to decide what plan seems to make the most sense for you all, find out what they are comfortable with, and just take it from there. You are all very capable, and I'm sure will make a great decision together.
Let me know If we can help in any other way, or if you would like to get a quote from us on this special van.
Good Luck from the whole team at Mobility of Denver!
Leo
Acquisitions Specialist
Mobility of Denver, Colorado Region