Q'Straint
Q'Straint is the most well known Tie-Down system producer in the world and Mobility of Denver is an official Authorized Dealer for Q'Straint. You can purchase Q'Straint systems directly through us whether you buy a wheelchair accessible van from us or not.
In the 1970s, a team of students and specialists at Queen's University in Ontario, Canada set out to answer the question: "How can wheelchair passengers be safely secured in vehicles?"
Their research demonstrated that wheelchair passengers have unique safety needs requiring unique safety solutions, which, at the time, did not exist. So the research team developed the world's first fully integrated 4-point wheelchair passenger securement system. Q'STRAINT was the first to introduce this innovative system to the global transportation industry.
Today, Q'STRAINT continues to build on this tradition of innovation, advancing its mission of providing safe access to everyone by developing the world's highest quality, wheelchair passenger safety solutions.
Mobility of Denver Offers Wheelchair Tie Downs for Any Budget
Manual tie down straps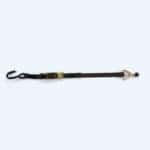 Q'Straint M-Series Wheelchair Tie Downs – $250
The M-Series wheelchair tie down straps are the budget-minded option.
Self-retracting wheelchair tie down straps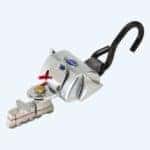 QRT Deluxe Wheelchair Tie Downs – $580
No manual tensioning required. Retractors automatically take up 'slack' to ensure wheelchair passenger is always secured. Dual tightening knobs on the Deluxe version provide additional tensioning if needed.
Electric wheelchair docking stations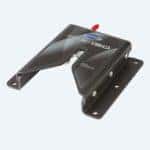 Q'Straint QLK-150 Electronic Docking System – $1,990 + Wheelchair Base/Bracket*
The Q'Straint QLK-150 Electronic Wheelchair Docking System is an automated, alternative choice to manual tie down straps when securing a wheelchair user inside an accessible vehicle.
Upgrade your wheelchair accessible vehicle with an Electric Wheelchair Docking System. The Q'Straint QLK-150 greatly reduces the time it takes to secure your wheelchair and reduces the steps it takes to get on the road. Our expert Q'Straint installation consultants at Mobility of Denver will gladly answer your questions about wheelchair tie down straps and discuss electronic wheelchair docking systems.
*With the purchase of any other product at our dealership.
---
Here's a full list of all the products Q'Straint offers that can be ordered through Mobility of Denver
4 Point Securement Systems (retractors & Tie-Downs)
QRT-360
QRT MAX
QRT Deluxe
QRT Standard
INQLINE Securement
INQLINE Assist
Q'UBE
QER Electric Retractor
M-Series Manual Belt
Wheelchair Stations
QUANTUM
Q'POD
DOCKING SYSTEMS
QLK-150
QLK-110
Floor Anchorages
L-Track
Slide 'n Click
L-Pockets
OMNI-VR Kits
QSF Seat Fixing
As well as: Occupant Belts, Walker Holder, and other General Accessories.