MV-1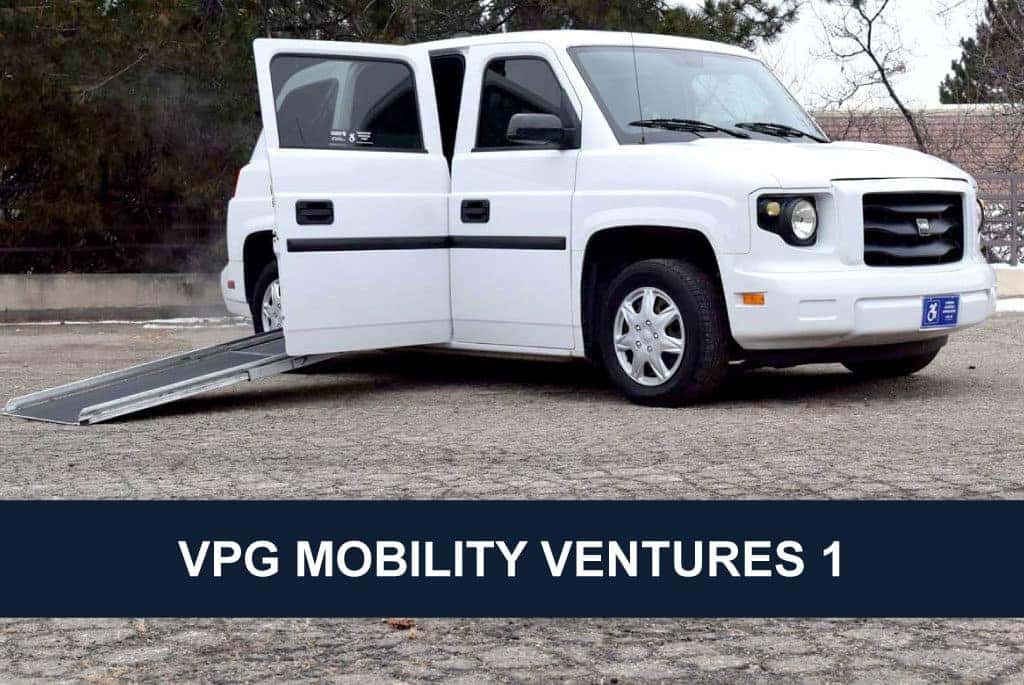 Mobility of Denver Sells used VPG MV-1 Wheelchair accessible vehicles in Denver, Colorado. We also service and can order parts for your MV-1 as we are a one-stop mobility shop.
What is the MV-1?
The MV-1 is an American-made, Purpose-built wheelchair-accessible vehicle designed and engineered specifically for mobility use. Because the company, Vehicle Production Group (VPG), designed it from the ground up, the vehicle looks and functions differently than a conversion van. The vehicle is wider and taller with a capacity to hold larger chairs and taller people. The doors are 3 feet wide and 5 feet high. The doors are able to be this large because the body was designed with egress of a wheelchair in mind. The in-floor ramp is able to extend out in a long or short option depending on your parking need. Many people like the stability and durability of this vehicle because it was built on a truck chassis and used domestically available parts from other vehicle manufacturers. It has a large 4.6-liter V8 engine (2011-2014) and Rear Wheel Drive. The 2015/2016 model is powered by a newer Ford 3.7-liter Ti-VCT V6.
Designed and manufactured by Mobility Ventures LLC http://www.mv-1.us/, the MV-1 remains the only American-made, factory-built mobility vehicle that meets or exceeds the guidelines of the Americans with Disabilities Act (ADA).
MV-1 Vehicle History
The vehicle began production in 2011. This continued until February of 2013 when the VPG ceased production of new vehicles. AM General reached an agreement with the Department of Energy to acquire the assets of VPG in September 2013 and created Mobility Ventures, a wholly owned subsidiary to again produce and distribute the MV-1 through its dealer network. Production restarted on March 11, 2014, and ceased again in 2016. 2016 Is the last year you can get an MV-1 until the future of the brand is decided.
MV-1 Design
Many MV-1s went into transportation service due to their solid construction design and material use. They hold up well due to their off-the-shelf use of inexpensive, domestically available engine and suspension parts. The vehicle works great for commercial transportation companies such as limousine fleets, medical facilities, and care homes as accessibility and cargo space are required for all types of wheelchairs.
The MV-1 is well-suited for wheelchair users with a range of mobility needs. Local transportation companies will find a cost-efficient opportunity in the MV-1, as it easily carries a driver, a wheelchair and 3 additional passengers. An optional jump seat that mounts behind the driver allows for one more passenger but it becomes a little cramped. The MV-1 came in an unleaded gasoline engine or a compressed natural gas option so you'll have to decide which one works better for you. It is a caretaker vehicle that is not designed for a wheelchair user to drive. This is because the driver's seat is fixed so it cannot come out and the ramp door is manual. Some later models of the MV-1 had the option to add a power door but this was not standard.
Learn More About the MV-1 for Sale in Denver
The MV-1 is still held in regard as a great vehicle by many owners and loyalists. One of the most active groups can be found on Facebook here: https://www.facebook.com/groups/1754361901478458/
The MV-1 has its flaws just like any vehicle but the amount of space its tall and wide body enables is substantial. The VMI Toyota Sienna and VMI Dodge Grand Caravan have longer usable space for multiple passengers, however, and the 14.9″ drop allows for more room than the MV-1.
Experience a New MV-1 for Sale at Mobility of Denver
When the time comes to get a new MV-1, choose our dealership near Denver. At Mobility of Denver, we strive to provide the best service possible. If you're in need of a mobility vehicle to help you get around, the new MV-1 is the model for you. Here, we also offer vehicle maintenance and parts so it's easy to keep your model running like new for years to come. Contact us today to learn more, then get the financing process started.
VPG MV-1 images:
Click an image to view it larger


















Contact Us to Learn More