Mobility of Denver is an accredited NMEDA QAP Dealer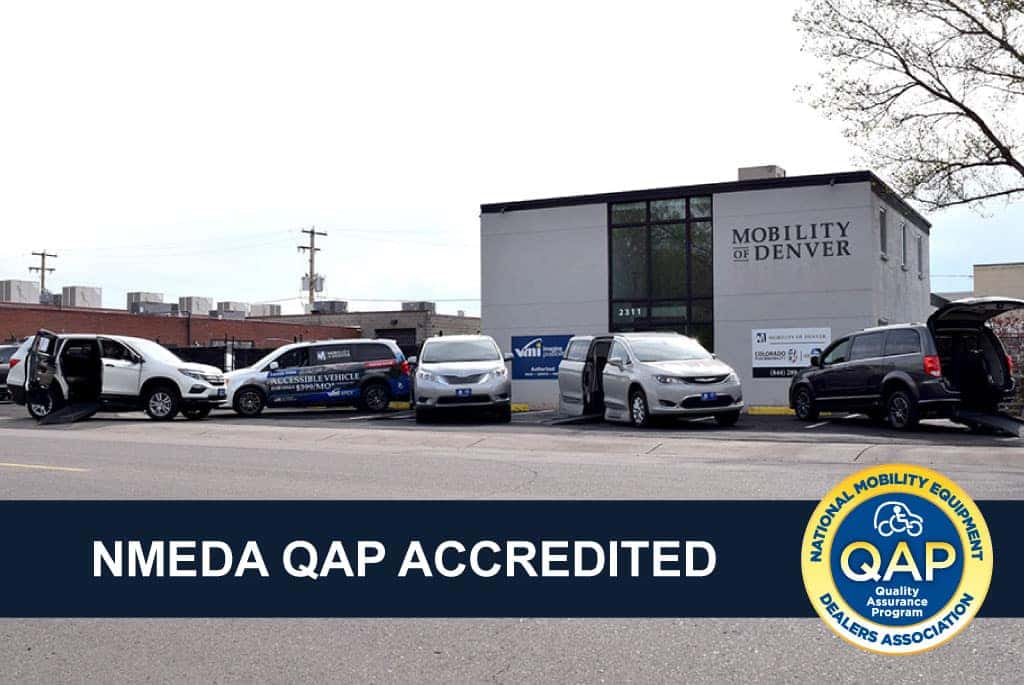 Our staff, the owners and our partners are thrilled to announce Mobility of Denver's NMEDA certified QAP accreditation, granted on April 17th, 2019.
What this means; Mobility of Denver has agreed to provide a higher level of support for the customers we sell adapted vehicles to.
We will keep a dedicated phone number available to provide 24/7 hour emergency service or support assistance to our customers at home or on the road.
This also means our shop facility has met or exceeded NMEDA equipment requirements to assure ADA guidelines have been met. Our facility is designed to be comfortable to everyone during fittings and on-site inspections and was designed with everyone in mind.
We also perform weight analysis using calibrated four-corner scales to assure customer safety and completed product complies with all applicable motor vehicle safety standards and cargo carrying capacity requirements are maintained.
Our team maintains calibration on measurement equipment to assure data accuracy and manufacturer installation instructions are followed.
Finally we use the NMEDA Servicing and Operating standards guidelines in all our business dealings.
As your local NMEDA accredited dealer, Mobility of Denver is here to serve you families of all needs.
Here are more QAP™ Program Requirements from the official NMEDA.com site:
What you need to know about QAP.
The Quality Assurance Program (QAP) is the only nationally recognized accreditation program for the adaptive mobility equipment industry. It is based on the principle that in order to satisfy customers consistently, companies must have a systematic and documented approach to quality. The program was developed to elevate the level of dealer performance to reliably meet consumers' transportation needs in the safest manner possible.
The QAP designation is indicative of enhanced vehicle modification and adaptive equipment installation consistent with the highest industry standards. NMEDA Dealers are required to follow guidelines written in accordance with motor vehicle safety standards, a professionally managed dynamic and static testing program and proven quality control practices that advocate the highest level of performance and safety.
QAP Requirements:
All NMEDA accredited dealers participate in the QAP and are held to extremely high standards for consumer safety and product quality. In order to uphold these standards, dealers are required to:
Maintain a NMEDA approved Quality Control Manual that defines processes affecting quality and focuses on customer satisfaction and compliance to applicable industry and regulatory standards while fostering continuous improvement opportunities on product and services offered.

Maintain Product, and Completed Operations, and Garage Keepers insurance for liability purposes and to protect the consumer and dealer.
Have certified welders (or equivalent in Canada) if they perform structural modifications to vehicles to assure welds and modifications meet or exceed industry standards.
Have technicians who are certified for the equipment they sell, install and service.
Maintain detailed records of all adaptive work for at least seven years that are specific to a customer/vehicle for traceability and future reference.
Undergo an inspection/audit process at least annually by an independent Audit Firm to ensure compliance to the QAP Rules, NMEDA Guidelines, certain aspects of the Americans with Disabilities Act (ADA), the National Highway Traffic Safety Administration's (NHTSA) Federal Motor Vehicle Safety Standards (FMVSS) and "Make Inoperative" mandates as required.
About Mobility of Denver
Mobility of Denver is a locally owned and operated, independent Wheelchair Accessible Vehicle dealer, certified QAP by the National Mobility Equipment Dealers Association (NMEDA). One of the 280 dealers for VMI, Mobility of Denver is a customer facing storefront right in the heart of Colorado, offering Sales, Servie, Parts and Rentals. Founded by Denver native, Justin McMinn and his two partners Alex & Leo, Mobility of Denver serves as a one-stop shop for mobility vehicles. Selling New, Used and Used/New vehicles as well as installing upfitted equipment for wheelchair drivers: hand controls, transfer seats, electric wheelchair docking systems, and lifts. For more information, visit www.mobilityofdenver.com/.
About NMEDA
The National Mobility Equipment Dealers Association (NMEDA) is a non-profit trade association dedicated to expanding opportunities for people with disabilities to safely drive or be transported in vehicles modified with mobility equipment to fit their specific needs. All members work together to improve transportation options for people with disabilities. NMEDA's strategic partners support more than 600 members – including mobility equipment dealers, manufacturers, driver rehabilitation specialists and other mobility industry professionals. Visit www.nmeda.com/