Grant Resources
There are many programs and organizations who offer assistance in paying for wheelchair equipment modification. As your local VMI accessible vehicle dealer, we work with several local and national groups to help you get into a new or used vehicle. There are many resources out there, but here are some great local ones we work with below.

Developmental Pathways
https://www.dpcolo.org/
325 Inverness Drive South
Englewood, CO 80112
Phone: (303) 360-6600
Developmental Pathways is a 501(c)(3) nonprofit agency serving individuals with developmental disabilities/delays and their families. A Colorado's Community Centered Boards (CCB) connecting people to federal, state, county, and private funding in Arapahoe County, Douglas County, and the City of Aurora. They offer services through Home and Community Based Medicaid Waiver programs, locally funded programs, and partnerships with other community organizations.

Starpoint
https://www.starpointco.com/
Administrative Offices
700 S. 8th St.
Cañon City, CO 81212
Phone: 719-275-1616
Starpoint provides essential services to two vulnerable populations: children and adults with cognitive and physical challenges. They have been providing services and support to individuals, families, and communities in Fremont, Chaffee, and Custer counties since 1977. A fiscal anchor of a collaborative network of early childhood programs that specialize in serving children from prenatal through five years of age. A leader in the Self-Determination movement in Colorado, which puts adult consumers, their families, and advocates in central decision making roles regarding program design and implementation.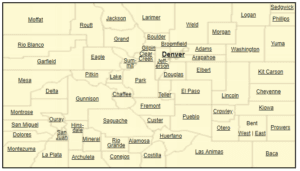 Other CCBs
These resources are specif to certain Colorado Counties. For a full list of Colorado's Community Centered Boards (CCB) that serve your county, please visit this link:
https://www.colorado.gov/pacific/hcpf/community-centered-boards
---
Vocational Rehabilitation
Your local "Voc Rehab" office may be able to provide financial assistance toward the unfitting of an accessible vehicle, depending on your situation and vocational goals. In addition to potentially being a helpful resource in attaining a vehicle, they can also provide support in other areas of employment:
Colorado Department of Labor and Employment
Division of Vocational Rehabilitation
https://www.colorado.gov/dvr
For general inquiries email CDLE_voc.rehab@state.co.us
Denver-Metro Office
2211 W Evans
Denver, Colorado 80223
Phone: (303) 866-2500
Toll Free: (877) 243-2823
---
Condition-Related Organizations
Along with the associations above, there are also foundations related to paralysis and specific medical conditions that offer grants.
---
Community Fundraising Organizations
Crowdfunding and CrowdSourcing platforms such as Kickstarter and GoFundMe can also be of great help when coupled with social media efforts so that everyone you know can help donate. When setting up a campaign, remember to:
Use a combination of keywords related to your disability, state, county, and city
Use terms such as "accessible vehicle funding." "disability equipped vehicle assistance" "handicap accessible transportation"
Look to see others who have successfully completed campaigns similar to yours and emulate what they've done.
GoFundMe
https://pages.gofundme.com/vantagemobility/
VMI has partnered with GoFundMe and is providing:
Personal, one-on-one assistance with campaigns
Help with the wheelchair van buying process and finding additional rebates
$1,000 rebate for a VMI wheelchair accessible vehicle with a new conversion
Call the VMI Customer Advocate center at 1 (855) VMI-VANS for assistance with this program