Partners Give Back

The Partners Give Back program at Mobility of Denver
Mobility of Denver is proud to partner with local non-profit organizations in order to set up regular donations to support their causes.
Join the several great local non-profits who are working with Mobility of Denver to raise money and help people.
How It Works
Mobility of Denver created its Partners Give Back program to help fund the mission of charities like ALS as part of this program so if you buy a new vehicle from Mobility of Denver we will do the following in support:

Take $500 off the price of a new wheelchair accessible vehicle
when the non-profit is mentioned.

Give a $250 donation to the non profit
for verified referred vehicle sales.

Donate $100 for every 10 people who are referred
to Mobility of Denver.

Customer will receive a free gift
for checking out Mobility of Denver.
*Charity name must be mentioned or card presented at initial contact of Mobility of Denver.
Please consider shopping at Mobility of Denver so your purchase can help others. Thank you for your continued support of our mission.
---
Our Partners
Here's a list of Mobility of Denver's current partners:
---
Partnership Commitment
Mobility of Denver is looking to network with like minded organizations. Your organization will:
Communicate with your supporters quarterly to maintain awareness of the Partners Give Back program.
Use marketing material provided by Mobility of Denver.
Provide the opportunity to display our vehicle at your local events.
Promote the program on your local website
Display program materials in high traffic areas at your offices
Promote and share the program on your social media channels
In exchange Mobility of Denver will donate according to the program funds to the charity. Mobility of Denver will:
Donate $250 to The ALS Association for each VMI wheelchair accessible van sold to your validated referrals.
Promote your local fundraising events on our website.
Provide marketing material for you to promote the program to your referrals.
 Provide access to a VMI wheelchair accessible van to display at your events and activities.
Provide a Vehicle Mobility Consultant to answer any questions.
Deliver donation check within 30 days of VMI van delivery.
Mobility of Denver will provide marketing material for you to promote the program to your referrals to educate your staff and customers.
Example of the marketing materials are below: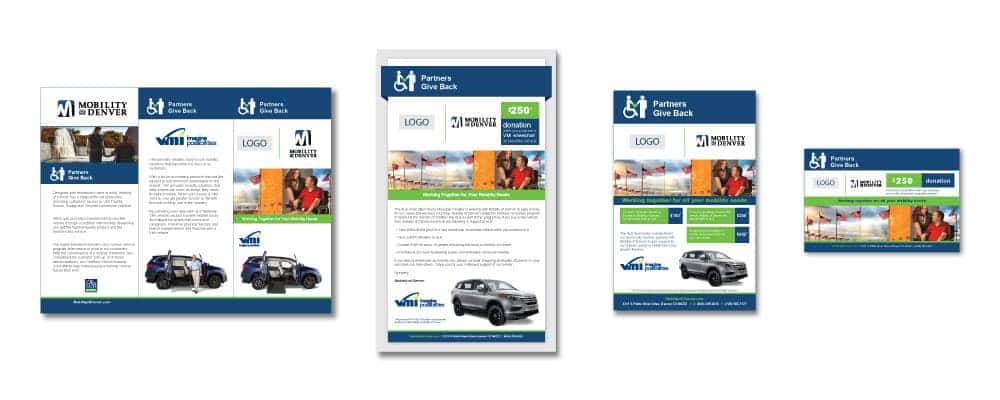 ---
Contact us today to partner with Mobility of Denver.